PREAMBLE
Kunst im öffentlichen Raum GmbH constantly reconsiders the changing relationship between art, society, and urban space. It sees its task in presenting artistic positions that explore the current situation of the city, its inhabitants, and its spaces. Supporting the development of new works of art, it strives to make an active contribution to the shaping of urban life.
The potential of art lies in the concatenation of different forms of perception, thinking, experimental setup, and aesthetic experience. Art is capable of bringing forth forms and modes of appropriation with which it responds to, helps to mold, and temporarily transforms specific places and situations in the city. This is how it can encourage a new perception of the city as well as a different way of acting and experiencing one's everyday life.
Jakob Dunkl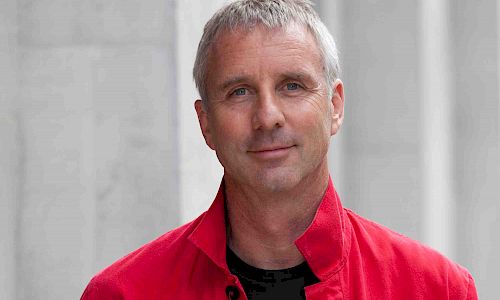 Architect
Jakob Dunkl is one of the founders and owners of querkraft architekten. Poetic pragmatism is probably the phrase that best describes the office's aspirations. In addition to various teaching activities, Jakob Dunkl has also acted as spokesperson for the Platform for Building Culture and IG-Architektur. Together with his partners Gerd Erhartt and Peter Sapp, he has received numerous prizes and awards, such as state prizes or the Prize of the City of Vienna for Architecture. An enriching factor in querkraft's work is the multiple collaboration with artists such as Heimo Zobernig, Esther Stocker, Ingo Nussbaumer and Brigitte Kowanz. The Liaunig Museum in Carinthia, planned by querkraft, was listed as a historical monument after only four years. The Museum of Concrete Art and Design in Ingolstadt and the Austrian Expo Pavilion for Dubai 2020 are currently being implemented.
Brigitte Felderer
KÖR Jury Chair, Curator, Head of "Social Design Arts as Urban Innovation" at the University of Applied Arts Vienna
Brigitte Felderer is a curator and cultural scientist in Vienna. She heads the master's degree program "Social Design-Arts As Urban Innovation" at the University of Applied Arts Vienna and has realized numerous media and cultural history exhibition projects and publications, including "Rudi Gernreich: Fashion Will Go Out of Fashion", steirischer Herbst, Graz/Institute of Contemporary Art, Philadelphia, 2000/2001; "Das Digitale Unheimliche / The Digital Uncanny", Edith Russ House for Media Art, Oldenburg, 2012; "Tollkühne Frauen", Frauenmuseum Hittisau, 2012; "The Scientific People. Recherchen zum Mythos des Primitives", Kunstraum NÖ, 2012; "Games of the City. Glück, Gewinn und Zeitvertreib", Wien Museum, 2012 (with E. Strouhal, M. Zollinger); "Play & Prosume. Creeping commerce and fast avant-garde", Kunsthalle Wien Karlsplatz, 2013 (with M. Jahrmann); "The last thing in life. An exhibition on death and mourning 1765-2015", Hofburg Innsbruck, 2015; "Der Hände Werk", Schallaburg 2019 (with K. Ecker).
Sonja Huber
Cultural Department of the City of Vienna, Head of the Department of Fine Arts and New Media
Sonja Huber studied art history in Vienna and Berlin and has been head of the Department of Fine Arts and New Media at the City of Vienna Culture (MA 7) since 2018. Prior to this, she worked in various positions in cultural management, including from 2000 to 2004 in the collection and exhibition management of the Collection of Contemporary Art of the City of Vienna and from 2005 to 2007 as exhibition coordinator and curator at the Kunsthalle Krems. From 2007 to 2012 she was production manager at KÖR Kunst im öffentlichen Raum Wien and from 2013/2014 at departure - Creative Agency of the City of Vienna as head of the funding programmes departure_pioneer and departure_experts and coordinated network activities for the creative industries. Among other things, she was responsible for the implementation of artistic-architectural competitions and worked on the departure study "Spaces of Creative Use. Potentials for Vienna". In 2015/16 she took over as head of the Art | Research | Service at the Academy of Fine Arts Vienna and was responsible for xhibit - Exhibition Space for Contemporary Art at the Academy of Fine Arts Vienna as exhibition coordinator from 2016 to 2018.
Britta Peters
Artistic director of Urban Arts Ruhr
Britta Peters has been artistic director of Urbane Künste Ruhr since January 2018. Prior to that, she realised Skulptur Projekte Münster 2017 in a team with Kasper König and Marianne Wagner.
The cultural scientist has curated several major exhibition projects in Hamburg, including from 2008 to 2011 as director of the Kunstverein Harburger Bahnhof. After the exhibition Demonstrationen. Vom Werden normativer Ordnungen, 2012 at the Frankfurter Kunstverein, she initiated the project Illness as Metaphor in 2014. The Mad in the Garden of Species at various locations in Hamburg. Peters has also published several articles on the subject of art in public space. As a visiting professor, she taught at the Kunstakademie Münster, among other places.
Georg Zey
Artist
Georg Zey studied sculpture at the Hdk (now Udk) Berlin from 1984 - 1988 and has been working as a freelance artist in Berlin ever since.
In 1992, together with Hans Hemmert, Axel Lieber and Thomas Schmidt, he founded the artist group inges idee, which works as an artistic collective in public space. The group works as an artistic collective in public space, where the aim is to develop a feeling for the possibilities and peculiarities of a place and to fathom what a concrete intervention can achieve. In order to understand a place properly, it is necessary to examine its spatial, social and historical conditions. Art in public space can shift a given context in order to open the view to other aspects of reality. The usual course of public life is interrupted for a moment and the viewer is given the opportunity to reflect on what he or she is unexpectedly confronted with. This can happen immediately, and does not necessarily have to be theoretical. This immediacy of experience is a democratic experience that inges idee tries to set in motion.